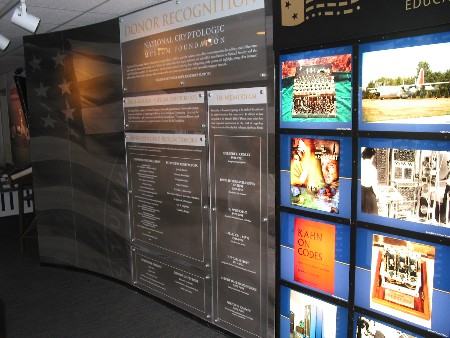 The Benefactor and Patron Panel lists the names of individuals or corporations that have made major contributions in support of the Foundation -- $5,000 for recognition as a Patron and $10,000 for recognition as a Benefactor. The Panel is part of the Museum Entrance Display - see more about this dynamic welcome to the museum after the listing of benefactors and patrons.
Those individuals who have made contributions in excess of the Patron or Benefactor level are highlighted in the listing below.
Individual Benefactors
Ms. Ann Caracristi
Mr. Joseph Amato 
Mr. Norman Boardman
Mr. Herman S. Chahal     
Mr. William H. Geiger     
Dr. John A. Gerbracht       
Dr. Robert J Hermann  
Ms. Juanita Moody   
Maj Gen John Morrison, USAF(Ret)     
Dr. James R. Schlesinger     
Dr. Edmund O. Schweitzer, III     
Mrs. Doris Speierman     
Mr. Guy H. Stephens
Mr. James R. Taylor 
Mr. & Mrs. Herbert Weakliem     
Mr. Charles J. Zeman
Individual Patrons
Richard L. Bernard 
Admiral Bobby H. Inman, USN (Ret)
Corporate and Organization Benefactors
Aegis Research
(Rae Hufstutler & Willia Geiger)
AT&T National Information Systems, Government Solutions, Inc.
BAE Systems North America
Boeing Company
Booz Allen Hamilton, Inc.
CACI International, Inc.
GEBA, Inc.
General Dynamics Advanced Information Systems, Security Affairs Support Association
Northrup Grumman, Space & Mission Systems Corp., Mission Systems Sector
Northrup Grumman, Space & Mission Systems Corp., Space Technology Sector
Raytheon Company, National Intelligence, Space & Geo-Spatial Program
Science Applications International Corporation
STG
Tower Federal Credit Union
TRW
Corporate and Organization Patrons
Fiber Plus
Logicon DPC
L3 Communications
National Army Security Association
TRW Systems and Information Technology Group
---
Museum Entrance Display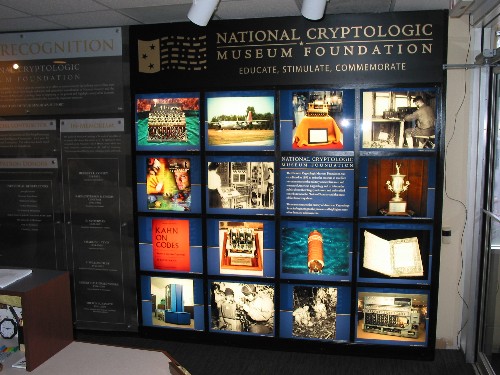 In mid-2007 the NSA and the Foundation launched a joint project to renovate the lobby area of the museum. The goal was to "open up" the entry way and provide a more dynamic welcome for visitors. As part of that project the wall devoted to recognizing the Foundation and its work had to be relocated. The Foundation took the opportunity to improve its image as well as enhance the museum by launching an effort to create a new wall. Prime space was provided immediately adjacent to the main entry.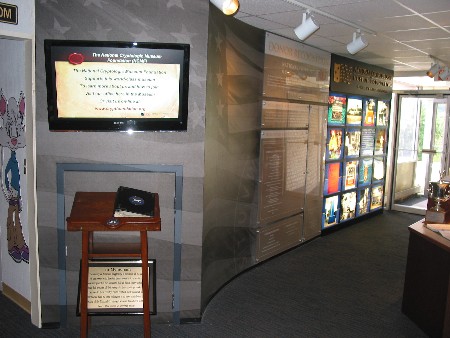 In early 2008 NSA completed construction of the new lobby. The Foundation then hired ADG Creative, Inc. of Columbia to design the wall, which included a flat-panel high-definition display, a back-lit duratrans section with 16 colorful images of artifacts and displays from throughout the museum, and a section recognizing the Foundation's generous donors. Severn Graphics, Inc. of Glen Bernie, MD was then hired to design, fabricate, and install each section of the wall and the highly decorative background wall covering. The finished product, shown in the accompanying photos, provides an attractive, high-tech welcome for visitors to the museum. It is sure to leave them with a wonderful and everlasting first impression of our Foundation and their visit to this one-of-a-kind museum.